Dobermann Kennel Carybdis Enci Fci Aiad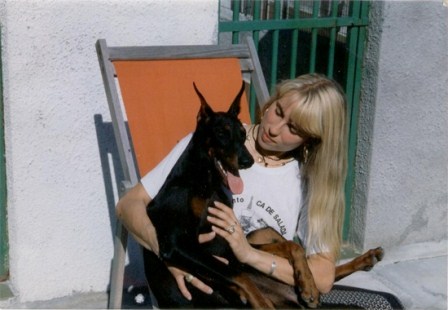 I'm Monica Oliva, since I was young i had a very strong passion for dogs .In 1997, finally I managed to fulfill my great dream .. have a Dobermann! I bought at the Breeding of Montaldo di Genova (to which I have my heartfelt thanks for the help in those years) and from that dog of 5 months(Nora del Montaldo said Cariddi) the passion was born. The love for this wonderful breed brought me closer to the dog training and to exposure of beauty. Unfortunately, the premature death of my Cariddi at only 4 years not allow me to be able to have in the house with her daughters.
In recent years the results of my kennel have been:
36 ZTP, 1 APDR, 3 SCH1, 6 IPO1, 2 IPO 2,4 ENCI2, 4 BH, 1 CAE 1 IPO3
3 RIPRODUTTORI SELEZIONATI ENCI
7 GIOVANE PROMESSA ENCI
1 GIOVANE CAMPIONE MONDIALE
1 GIOVANISSIMA PROMESSA AIAD
2 GIOVANE CAMPIONE SAMMARINESE
1 GIOVANE CAMPIONE SLOVENO
1 CAMPIONE RIPRODUTTORE
6 CAMPIONI ITALIANI
4 CAMPIONI ESTERI
2 CAMPIONE INTERNAZIONALE
4 CAMPIONI SOCIALI AIAD
1 IDC JUNIORES CLASS WINNER
2 CAMPIONE SAMMARINESE
1 CAMPIONE VETERANO SAMMARINESE
1 CAMPIONE ITALIANO VETERANO
1 GRAN CAMPIONE SAMMARINESE
1 CAMPIONE INTERNAZIONALE DI ESPOSIZIONE
1 KARAWANKEN WINNER
1 TOP DOG GIOVANI
1 TOP DOG

Currently the Kennel is located in Rivalta Bormida(Italy), my dogs are at home in close contact with the family. My litters are never more than three a year, only in this way I can give puppies only to trusted people. We Don't give puppies or adults who require a guard dog.The Dobermann must live within the family and feel part of it and to develop serene and
sociable but always careful and vigilant.